The next station was lit up like a Christmas tree. There were Jack 'O Lanterns hanging everywhere and the golden glow made it seem almost homely. Standing on the platform was Bev, dressed like Morticia Addams and holding a tray full of hot mulled wine and cookies. "I thought you might all want some refreshments, after all it is wild out tonight" "Well certainly dark, blustery and scary enough to make even the straightest of hair curl".
Gratefully the conductor and his passengers downed the alcoholic beverages and the cookies, picked up their surprise gifts and wandered back to the train feeling quite content and safe here in this little haven of light. But they still have a few more stations to travel to before they reach their destination and who knows what may befall them during the last half of their rid.
Mwahahahaha and off they went, chugging and puffing, headed for the next station.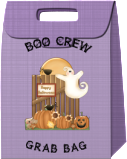 Carry On